Tuesday 21st April 2020
Hello Crocodiles,
I hope everyone enjoyed doing the home learning tasks yesterday.
Don't forget you can send us pictures of your work at crocodilesclass@purston.wakefield.sch.uk or tweet them to @infantpurston on our school twitter account.
Here are today's home learning tasks:
Expressive Arts and Design –
Can you sing the 'Wheels on the Bus' with a family member?
Remember to do the actions for each noise- e.g. the horn on the bus goes beep, beep, beep (push your hand forward).
Is there any other songs you know about a boat?
(Row, row, row your boat)
Can you make a pretend stage in your house and grab a household object for a microphone? (A spoon can make a fantastic microphone!) Can you sing and perform your favourite song to someone in your house?
Maths-SSM–
Can you find three sticks and three stones in your garden or on your daily walk? Can you order them by size?
From the biggest stone to the smallest.
From the longest stick to the shortest. (Remember to put your sticks starting from the same point and lie them across the floor so you can find the length. See the picture for help)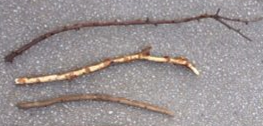 Thank you
Miss Crossley