Wednesday 20th May 2020
Hello Crocodiles,
I hope you manage to enjoy the sunny weather today!
Here are today's home learning activities:
Expressive Arts and Design
Can you use any materials you have in your house to create a hot air balloon? You could draw, stick, paint, use lego or even a real balloon!
Parents whilst building/creating their hot air balloon can you ask your child
What shape is the top of a hot air balloon?
What shape should the basket be?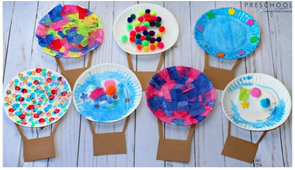 Physical Development- Yoga
Can you find an electronic device to watch this video on and some space in your house. Can you listen and follow the story below to practice some yoga? It's one of Miss Crossley's favourite stories!
https://www.youtube.com/watch?v=KAT5NiWHFIU&list=PL8snGkhBF7niNxu5-ED5h3F9D1W3InZuz&index=3&t=0s
Thank you
Miss Crossley